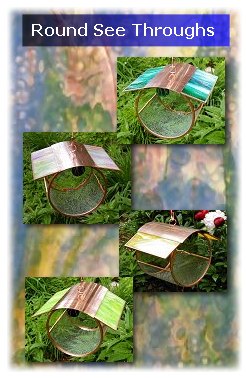 Round See-Through Feeders
These small round feeders are very unique and colorful, and will really liven up your garden!

Cardinals, chickadees, finches, nuthatches and small woodpeckers all feed from this colorful little birdfeeder. In addition to being a seed feeder, it can also be used as a suet feeder.

They are made with clear glass circular panels on each end allowing you to view the birds from any angle. The top is made from colorful glass panels and sheet copper. Think bold and bright: teal, chartreuse, bright yellow, red, pink and green, etc. There are so many beautiful glass colors that can be incorporated into this feeder that will make it a focal point in your garden.