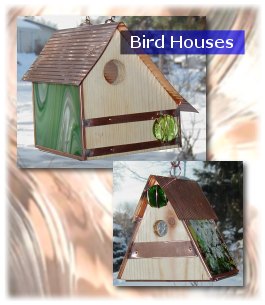 My brother makes the fronts of these houses for me. He also has his own business making nest boxes for barn owls, kestrels, western bluebirds and bats. He promotes programs for natural pest control (gophers, rodents, insects, etc.) for gardens, orchards and vineyards by attracting natural predators to your area.

The name of his company is
Bio-Diversity Products, and you can visit his website at:
Barn Owl Headquarters.
Functional Bird Houses
Bird houses that are both functional and colorful!

Wooden front entrances are made from cedar according to specifications for wrens and chickadees.

Sides are glass and the roof is copper. They come with a hook for hanging and are ready for occupancy!

You'll love "spring cleaning" these bird houses! I've designed a hinge system, so instead of fumbling with a screwdriver, you just pull out a copper pin and the bottom drops down for easy cleanout!

Notice no front perches - this discourages sparrows from nesting in these functional homes.

The birdhouse shapes shown are only examples. More "traditional" birdhouse shapes are available as well.

Approximate sizes are 6x6x7"h.